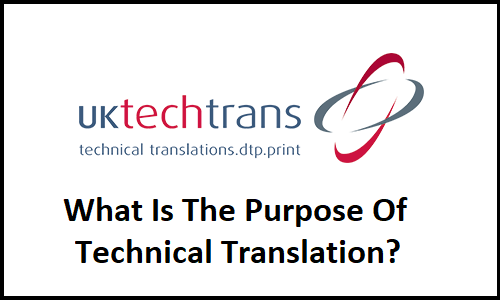 What Is The Purpose Of Technical Translation?
Many people in the UK aren't aware of the benefits of using Technical Translation Services for a Technical Document Translation. In this article from UK TechTrans, offering technical and medical document translation services worldwide, we look at why it makes sense to have your documents translated by a professional translation company and the benefits that it will bring to you and your business.
Technical translation can be used for a variety of different purposes and it can be hugely beneficial for you and your business. You may be thinking what is the point of having a document technically translated? Surely, it's OK that readers just get the gist of what you are saying? However, you couldn't be more wrong! Here we explain the many reasons why you should use technical translation services and take advantage of the skills and resources a translation agency can provide.
If you are looking for professional technical document translation for medical documents or scientific documents, then technical translation is perfect for you, especially if your document contains a huge amount of complicated language. Technical translation is translation that requires the use of a professional technical translator.
The technical translator should:
Have an excellent understanding of the subject matter within the document
Understand the specialised terms which are frequently being used
Know how to accurately translate these specialised terms
Offer quality translations for the relevant business
Technical translation services can benefit you and your business
Technical translation is vital if you work in an industry, which deals with specialised terminology on a daily basis. Taking advantage of technical document translation services is the best way to guarantee you achieve the best results possible for any technical translation.
What Is Technical Document Translation?
There's no need to panic if you are unsure what technical document translation is. You are certainly not alone as many people struggle to understand what technical document translation means and how it can really benefit them and their business.
A technical translation is a specialised translation involving the translation of documents produced by technical writers, or texts that relate to technological subject areas such as texts that deal with practical, scientific, or technological information.
Technical Document Translation Requirements
A professional translator who has the requisite knowledge
Awareness of the correct technical terms
A translator who can easily adapt to using very specialised terminology
The specialised terminology needs to be known by the translator in the source language as well as the target language
All of this will ensure that the document is translated professionally, so that the reader can easily understand it.
As you can see, technical document translation isn't too complicated to understand once you have a brief understanding of the concept. However, it is vital that you use professional technical translation services instead of trying to complete a technical translation independently.
Technical translation services use specialist translators to complete technical document translations. Carrying out this task independently can lead to miscommunication as well as other damaging factors for you and your business.
How Do Technical Translation Services Work?
All technical translation services work differently and have their own guidelines. However, a standard technical translation process generally goes like this:
The technical translation services will collect all documents from you, which are to be technically translated.
The documents are then passed onto a highly educated bilingual professional translator. The translator will then start to translate the source text into the new language and will ensure that the document reflects the source text accurately.
The translated documents are now ready to send to another linguist. The linguist will check the documents thoroughly and will compare them to the original documents. This process is double insurance that there are no mistakes.
Finally, automated QA checks are carried out on the documents. These checks look for issues such as double spaces or missing punctuation. After this is done the translated documents are then sent back to you.
The above process is the best way to ensure you achieve professional technical document translation. This method is used here at UK TechTrans, and always provides our clients with the best results. It guarantees that your documents are mistake-free as well as being accurately translated.
So, Where Can You Get Your Technical & Medical Documents Professionally Translated?
There are many companies across the UK who offer technical document translation and international translation. It can therefore be difficult to guarantee that you are getting the best service for the best possible price.
Most technical translation services offer technical document translation for materials such as scientific, medical, and engineering articles, computer product spec sheets, patents, user manuals and technical journals. Find out more about what technical translation services we offer here at UK TechTrans.
Professional Technical Translations From UK TechTrans
Here at UK TechTrans we offer professional technical and medical document translations. These translations are carried out by one of our 600 experienced translators, who are based in every continent around the world. As well as providing technical translation, we also provide DTP and printing services to support all aspects of your technical document production. At UK TechTrans we manage all of our technical translation projects from start to finish to ensures a professional and high-quality service every time.
---
What To Do Next
If you would like to find out further information about our technical translation services or if you would like to learn more about how we do our technical document translations, then please get in touch with us today. UK TechTrans has been providing accurate technical translation to multi-national and international businesses for more than fifteen years. You can get in touch with us by using our contact form, by emailing us at: sales@tectrans.co.uk or by calling us on: 01273 426921. We would be more than happy to assist you with any questions or queries you have regarding our technical translation services.