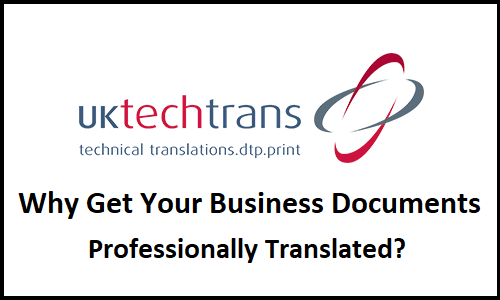 Why You Should Get Your Business Documents Professionally Translated
Have you ever considered the benefits of having your business documents professionally translated? Perhaps you are using the other options available to you including trying to complete a professional document translation yourself, using an online tool or using a free website. However, is this the best use of your time? Can you guarantee that your own document translations are correct and without grammatical errors? And are you sending the right message to potential clients? In this article by UK TechTrans, offering technical, medical and professional document translation services worldwide, we look at why it makes sense to have your documents translated by a professional translation company.
Why Get Your Business Documents Professionally Translated?
Today's modern technology provides many different ways of contacting people around the world and in the business world, it is vital to ensure the people that you are getting in touch with can clearly understand your message and the information you are conveying. If you are sending a document or an email, you need to ensure that the content can be clearly understood and that there are no errors if the document has been translated from and into another language.
Translation Options
There are a number of different ways of getting documents translated:
Online generator
Translating yourself
Using a free website
Using a professional document translation service
All of these certainly have a purpose, but the only way you can guarantee the best results possible is by choosing a specialist professional translation service.
Free Translation Tools
Trusting free translation tools, rather than a professional translation service can be risky business. It can be both awkward and embarrassing if a current or potential client comes back to you saying that they don't understand the document that you've sent, or that there are major punctuation and grammar issues throughout the content. Professional document translation services will stop this from happening, as your translation is completed to the highest possible standards.
Experienced and skilled translators
Fluent in their chosen languages
State of the art software and tools
People who understand the original and target language
With professional document translation, you can be totally confident that the document you receive back has no mistakes or miscommunication, which means happy clients who fully understand your message. You will also be building strong relationships with your foreign clients.
Why Get A Document Translated Professionally Rather Than Doing It Yourself?
It may seem incredibly simple to use a free online generator to translate a document, and of course it may seem an inexpensive option, but it can throw up major issues. Here are some reasons why you should use professional document translation services instead of doing a translation yourself.
Consistent translation
Elimination of errors
Use of native speakers
Cost efficient
Advanced tools
Linguistic databases
With most professional translation services, the translators are native speakers of each target language, and a lot of the translators are located in the country where they natively speak the language, and therefore the translator is aware of any changes in culture as well as language. Professional translation services use a variety of advanced tools and linguistic databases to achieve perfect results, and as you are using the services of the translation business you get to benefit from the technology they are utilising.
The Importance Of Professional Document Translation
It's always important to expand your market share, as it's a way of increasing revenue and profits and with today's modern technology, it's all possible. Professional document translation allows you to reach a different and new audience, which would have once been impossible.
Reach people all over the world
Target the right audience
Efficient communication
No miscommunications
Confidentiality
Low cost
You will be able to find a whole host of professional document translation services across the Internet, but make sure you choose the most suitable and reliable company for you. You want to ensure your confidentiality is always protected and you trust the professional translation service doing the required work. Check our company testimonials and case studies.
Why It Is Better To Pay For Document Translation Rather Than Doing it For Free?
Using a tool such as Google translate may be perfect for translating a word or even a sentence, but for whole document translation, it is dangerous. A free generator or an online tool won't be able to work with a high amount of text efficiently and mistakes will be common within the content.
Compare this with the majority of translators who will have many years of experience and a vast knowledge of the language and therefore, they will be able to easily spot mistakes within the text and deal with them appropriately. With professional translation services, you will also have a personal contact who can offer support and guidance if you become stuck and can't understand what a client or customer is trying to put forward.
Experienced translation
Personal contact
Support and guidance
Professional service
Professional document translation services offer you much more than just a translation!
What Will A Professional Document Translation Company Do?
So, what do professional document translation services actually provide? It's worth noting that professional document translation services are different in the manner they operate, so here are the basics.
Your document is sent to the translator
It is read thoroughly, so that it is completely understood
Appropriate tools or software are then used
Document is read back by the translator
It is checked by another person
You receive the document back
You send the professionally translated document to the client
The translator will be skilled in the target language and can be based in the UK or another country. The translator will thoroughly read through the document to ensure they understand what needs to be said in the other language, after which they begin to rewrite the document. The appropriate tools, software and methods are then used to ensure the document reads correctly and that there are no grammatical mistakes. The translator checks the document again, and then another colleague reads it through to ensure there are no mistakes and the document is correct. This is when you see the document; the professional document translation is now ready to send to the client or customer who will receive a professionally translated document in their native language.
How To Professionally Translate a Document?
In summary, to translate a document without errors, you will need a skilled team of trained translators who have a wide variety of knowledge about the language. Professional translation services are the only way to guarantee you achieve the results you want. You want to portray your business in the best way possible, especially if you are trying to reach out to a new market and make your business stand out. Professional document translation allows your business to reach different heights and become global. Document translation should be completed to the highest of standards by an extremely experienced team. This will ensure you have a professionally translated document, which portrays your business in the best possible way.
---
What To Do Next
If you would like to find out more information about professional document translation or to enquire about the range of technical & medical document translation services that we offer here at UK TechTrans, please get in touch today. UK TechTrans is certified to the ISO 17100 Translation Quality Management and the ISO 27001 Information Security Management international standards. You can reach UK TechTrans by using our contact form, by emailing us at: sales@tectrans.co.uk, or by calling us on 01273 426921.  We work with a network of over 600 experienced technical translators based in every continent around the world. Discover our Professional translation services today…